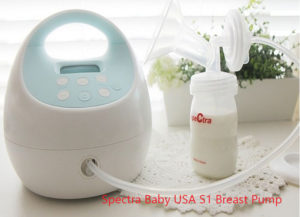 We already research a lots of breast pump and finally select Spectra Baby USA S1 is the best breast pump 2018 in online market for your toddler. Check our breast pump reviews to know about the product quality.  Breast pumps are widely used for moms who are too busy with work, who can't breastfeed their babies, or for those who want to increase their milk production for their baby's physical growth. The invention of breast pumps makes breastfeeding more convenient and more accessible.
Top rated breast pumps reviews
There are thousands of breast pumps on the market for a wide variety of purpose: occasional use, regular use, or for moms with babies under 8 months old. Each one is manufactured for a specific purpose. In such a wide variety of choice, sometimes you are confused or waste much time and money trying many models and brands. You are not alone! There are many moms out there asking the same questions as you. In this article, I'll review in details some best breast pumps that are being used by million moms worldwide. This review article contains essential information on each breast pump model, their PROs, and CONs, as well as notices that you should acknowledge before purchasing a breast pump to use at home. Before buying a breast pump, please remember to ask for your doctor's advice to ensure that it works well on you and does no harm for you and your baby.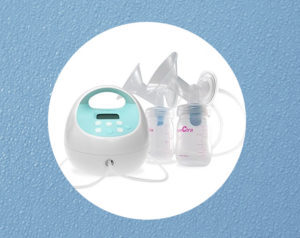 Known as U.S's top favorite breast pumps for moms with its "sister" Spectra Baby S2, Spectra Baby S1 is a hospital-grade breast pump that can imitate the sucking action of a baby. With the maximum suction strength of 350mmHg and the cycle rotation of 40-60 times per minutes, you can reach both the natural levels and cycles to gain the maximum milk production. Besides, you can also customize this pump to achieve your target milk production goal with either single or double pump. Spectra Baby S1 is closed designed, so it's quite easy to clean after pumping sessions to avoid the growth of molds, bacteria, and viruses.
There are a few drawbacks with this pump. First, it's quite hard to empty milk in your breast completely. Or you will have to spend more time to pump. Second, some of my friends who have their first baby said that the adapter (that goes with the pump) easily breaks after few times of use. I don't know if that's their bad luck or not, but it's also a problem to take notice when considering to buy this pump. Overall, I think Spectra S1 is still a great choice for milk production with a reasonable price.
PROs
Hospital-grade type that is strong enough to maximize milk production
Closed system, easy to clean and to avoid bacteria, viruses, or molds, and to maintain the performance of the motor
Adjustable suction with the maximum suction level 350mmHg makes it easy for every mom to produce milk efficiently without causing sores with nipples
Rechargeable built-in battery that can last for 1 hour
Two-phase technology with first gentle "massage" mode, then to expression mode just as your natural baby's patterns when asking for milk
Easy to track the whole process with digital display
Can be used as single or double pump
CONs
Too noisy with the annoying "beep" sound
Can't empty breast completely
Adapter quickly goes out of use
Takes a long time to pump rather than some other pumps. Thus it hard to schedule milk production time
Replaceable parts promptly get out of use. It's hard to find new ones, and they are too expensive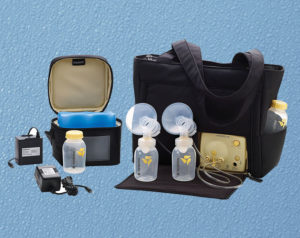 This pump from Medela is a tremendous supporting equipment for working moms, moms who can't breastfeed their babies, or busy moms who want to freeze their milk for later use. Unlike other breast pumps, Medela Breast Pump In Style is attached to a tote bag, so you don't have to take in or take out separate parts to use this pump. Just open the zipper and get ready to produce milk for your baby. You can bring this pump to produce milk anywhere. On performance, I rate this pump lower than Spectra Baby 1. In exchange for the performance, this pump works with "two-phase expression" process that mimics your baby nursing. This technology reduces the risk of nipple pains and makes you feel comfortable to use.
What I love in this pump is that it's nearly quiet (not completely quiet!) than almost all average pumps on the market. One thumb-up for this PRO because I hate hearing the annoying machine's sound. At the pumping time, I just want to focus on imaging my baby's sounds to let my breasts produce as much milk as possible. Thank God! Now I have found my must-have breast pump for my peace.
PROs
Attached inside a tote bag for travel-friendly
Easy to plug in and carry everywhere
8AA batteries last for 6 hours with AC adapter
"Two-phase expression" process that mimics the baby nursing
Nearly quiet than average pumps on the market
Many great accessories included
CONs
The tubing easily gets condense after few times of use
The suction seems to be weaker when using batteries
Pump cannot be taken out of the tote bag, which can be a great environment for molds and bacteria inside
The 4 six-ounce bottles in the package are only sufficient for moms who work 8 hours per day and pump twice. It might be inconvenient for those who need to pump more milk for several days at once.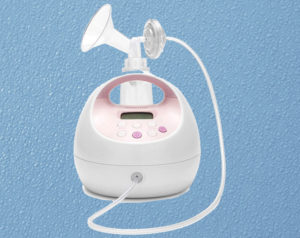 When compared with its "sister" Spectra S1, there seem to be no significant differences. With no rechargeable batteries, the Spectra S2 is cheaper than Spectra S1. But if you are a busy mom who is always on the go with your baby, the power from batteries may be a great value added for you, though some people said that battery power sucks and cannot reach the maximum performance as the power from the adapter. Another problem with a pump without batteries is that you cannot produce milk in places with no electricity (on the train, on the plane, etc.) But if you don't need to bring the pump with you, or you are a stay-at-home mom, you can consider purchasing this model with a more reasonable price.
So what differs Spectra S2 from all pumps out there? First, the integrated time tracker makes it easy to count your pumping time, while the nightlight allows you to produce milk anytime (even at night!) your baby's hungry or when you are nearly run out of milk in the fridge. Second, you can adjust the suction level depending on your demand. But sometimes the suction becomes too hard that results in nipple pains.
PROs
Lower price
Super quiet
Hospital-grade pump that can maximize milk production
More flexible than renting a hospital-grade breast pump from hospitals
Closed system for hygiene
Nightlight and timer included
Adjustable suction to reach custom milk production goals
Contain no BPA or toxic chemicals for moms and babies
Milk fillers can be easily assembled and clean
Covered natural nipples on the bottles to feed your babies
CONs
Suction sometimes can be too strong
The flanges are too small for almost all women (24mm), the flange and back-flow setup is hard to use
The pump offers only one slot for one bottle, so it's not convenient at all for dual pump (at least 2 slots are required)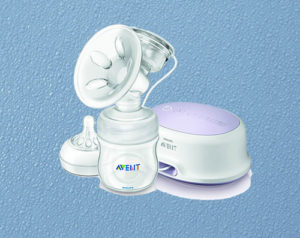 Philips AVENT is a well-known pump model for working moms or for those who can't breastfeed their babies directly. What I love in this pump is that it's quite lightweight so that I can carry my pump with me in my tote bag to work, unlike Medela Pump in Style. You can detach the pump into small parts and bring the pump with you. But a friend of mine said that she hates this design because after few times of using it, there will be super small holes between pump's parts, and milk can get into the motor along the holes.
This pump is designed for the natural shape of mommy's breast, so milk production becomes easier and quicker, and there is less risk of nipple pains even when you use it for several times. Moreover, there are several massage cushions to make you feel relaxing and to boost the milk production process. On performance, there are 3 expression settings for the second phase (low, medium, high). I wish there would be adjustable settings because not all moms fit default settings. To me, the lower setting is too slow, while the medium one is a little bit faster than my baby's natural nursing cycle.
PROs
More productive pumping with its intelligent design
Feel more relaxed because you can pump in natural position
3 expression settings for the second phase (low, medium, high) after the first gentle phase
Travel-friendly, lightweight and can be carried in working or diaper bag
Easy to clean with separate parts
Contain no BPA or toxic chemicals
Soft massage cushion to boost milk production
Easy to assemble and clean with multiple parts
Closed system to avoid the growth of molds, bacteria, or viruses
2-year warranty with excellent customer support service and quick response rate
CONs
There is no double pump. Thus it takes more time to pump for 2 breasts
The suction is not robust, and it makes more time to empty your breasts
Quite noisy with annoying "beep" voice
Easy to spill milk outside
Separate parts with holes create an ideal environment for the growth of bacteria over time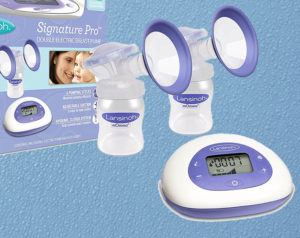 This pump from Lansinoh brand is considered great deal within a reasonable price range. You can use it for a single or double pump. With 3 pumping styles and 8 suction levels, every mom can pick up their target suction levels and cycles without hurting their nipples. The flanges are specially designed soft and smooth to provide a relaxing feeling for mommy to maximize the comfort while pumping. Thus it helps produce more quality milk for their babies. The flanges are soft and still tight enough to hold precious dairy from leaking outside.
For the safety of both moms and babies, this pump is guaranteed to contain no BPS, BPA, or toxic chemicals. The hygienic closed system is quite easy to clean. It also helps avoid the growth of any bacteria or viruses inside the machine.
Lansinoh Signature Pro Pump is limited to occasional pumping, not regular pumping. That says, your nipples will hurt if you use it every day or more than once per day. Another annoying drawback of this pump is that it's too noisy with the awkward "beep" sound repeating again and again while the pump is being used. The third problem is that the motor loses its power after few weeks of use. But after comparing all the PROs and CONs, I think this pump is still okay enough to use without too much investment.
PROs
Can be used as single or double pump
A wide range of choice with 3 pumping styles and 8 suction levels
Hygienic closed system to avoid bacteria
Accessory kit to support pumping
Tote bag included for traveling purpose. The pump can be separated into parts for carrying outside
Comfort flanges provide a relaxing feeling for mommy and help mom produce a maximum amount of milk. They are also tight enough to avoid milk leaking
Compatible with Lansinoh's Simple Wishes Hands-Free Pumping Bra
Contain no BPS and BPA or toxic chemicals for moms and babies
CONs
Works best for occasional pumping, not regular pumping
Too noisy with the awkward "beep" sound
The motor loses its power after few weeks of constant use
Storage caps seems useless because milk still leaks out
Might cause soreness in nipples
It takes too long to get your breast empty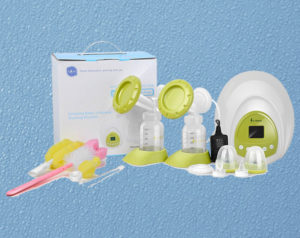 Nibble pump was my life-saving equipment when I had my first baby last year. At that time, I couldn't start my milk flow to feed my baby. Then I had a severe case of mastitis. I tried some manual pumps of Philips and Medela, and my nipples got sore. My mommy life changed since the day I've got Nibble pump. This pump seems to be slightly awkward at first, but then after few minutes I could get acquainted with this pump and start producing milk for my baby. I love the natural pumping position. It's so easy and quick. You just sit and wait for your milk without tiring your neck, your hands, or your back. At that time, I pumped milk around 3 ounces per day, and it took only 15 minutes to empty my 2 breasts.
What makes me satisfied about this pump is its intelligent system. There are 10 suction levels (120mbar-450mbar), that means it's quite easy to mimic the suction patterns of my baby. Thus, I can choose my suitable level to avoid any discomforts for my nipples. Finally, this is a hospital-grade pump, so you can always express milk whenever your baby's hungry, or whenever you need to fill up your milk supply for the freezer.
PROs
Hospital-grade to maximize milk production
Can use for single or double pump
Natural pumping position that won't make your arms tired
10 suction levels to fit every baby's suction pattern
Pump milk quick and easy (around 15 minutes per pump)
Closed and anti-bacteria system to maintain hygiene for moms and babies
Easy to clean after use
Can be applied for occasional use, regular use, or for babies under 8 months old
More flexible than renting a hospital-grade breast pump
Great customer service
Reasonable price with all accessories and excellent performance
BPA-free
CONs
A little bit noisy
No power from batteries, which may cause inconvenience when in areas with no electricity available
Hard to get replacement parts from the manufacturer
Easy to break down after few weeks of use (the motor is unresponsive, and I cannot turn on the power to pump milk anymore)
Conclusion
To sum up, I hope that you have found a breast pump for your baby from my detailed review article. With a high-quality breast pump, milk pumping is no longer a nightmare. Please notice that these reviews are only from my personal experience as a mom. Thus, to ensure that the pump works for you, you should visit the store and try on the pump. You should also ask for your doctor's advice before purchasing a pump, or any breastfeed supporting devices to minimize risks for your milk production.