We have done sufficient research about the best Electric Lawn mower among the many available ones from different manufacturers. Our research team settled on Greenworks 20-Inch 12 Amp Corded Lawn Mower 25022 as the best electric lawn mower based on this item quality and best customers reviews. Its pricing is the fairest and it delivers service to the level that is mostly required by many customers who are on market looking for an affordable and reliable lawn mower. Electric Lawnmower overtook the fuel powered lawn mowers because they are environmental free. You can imagine how diesel powered lawn mowers make noise and release some smoke. This air and sound pollution are very undesirable and that made the switch to electric lawnmowers which are not noisy and emit no smoke the best option.
Top rated electric lawn mower
Below are five top rated electric lawn mowers each described in details and its pros and cons are outlined. By reading this paper, one should be able to easily identify with me of them as the best option if he was to acquire an electric lawn mower. The electric lawn mower is operated exactly like the normal fuel powered mowers only that its mode of powering is from rechargeable batteries. They are pushed around the lawn and they require less maintenance since their rate of breaking down is lower compared to Fuel powered mowers.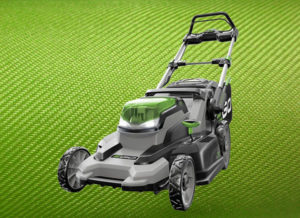 Ego Power 20 inch 56-Volt Lithium-ion Cordless Lawn Mower as it's known by the manufacturer is an electric lawn mower with rechargeable batteries. It has a cutting width of 20 inches and a weight of 65.3 pounds. Its dimensions are 17.4 x 23.1 x 44.7 inches .This mower is designed to produce 30% less noise when compared to the gas-powered mower. It has 4.0 Ah, 5.0Ah and 7.5Ah 56-Volt Lithium-ion Battery. This mower has 600W torque. This Mower can easily be folded and stored uprightly. The mower can operate for 45 minutes and its batteries charge for 30 minutes. It is designed to be weather resistant to its design makes it very easy to clean. It can cut grass that is even taller than it only that you will need to do several rounds. It comes with a five-year warranty and a 3 years warranty on the batteries. This mower is appropriate to cut grass that is required for shorter lengths of up to 2.5 inches. This mower as reviewed by one buyer on Amazon which sells the mower at a price of $449 does best for short grass cutting lengths and if one needs taller grass then he may be required to go check it out in person before purchasing. It has really less noise.
PROs
– This is a powerful machine with the shortest battery recharge time; it takes only 30 minutes to recharge its battery.

– For it to function, you do not need oil or gas, hence, getting rid of fumes which are environmentally threatening as well as potential spills.

– It also has a 5-year warranty making it the best of them all.

– It is lightweight.

– It is easy to use and you can easily tell when you are running low or when there is need to charge it soon.

– It has a wide cutting path making it faster and convenient.

– The built-in handle also makes it easy and secure to store it.
CONs
– Sadly, you cannot self-propel it.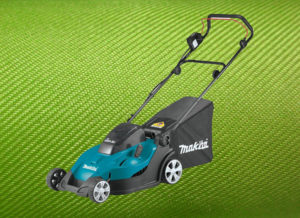 Makita Lawn Mower is an electric lawn mower powered rechargeable batteries. It has two 18V X2 LXT batteries. Its motor has an ability to deliver 3,600 RPM when cutting grass and can deliver service continually for 30 minutes. This mower saw an improvement when Makita Company which manufactures it developed star protection computer controls that brings the ability of the cutting tool and the battery to communicate in real time. This communication has enabled the equipment to avoid situations like overheating, over-discharging and overloading. This mower is normally easy to operate and has up to 13 cutting heights that can select. Also, it tends to have long gear life since a feature called soft start that suppresses start-up reaction. Its cutting edge is 17 inches in width. This Lawn Mower has an extra feature known as Makita Extreme Protection Technology. This is a protective design that is geared towards improving operations in harsh conditions by ensuring that water and dust from key internal components are channeled away securely without interfering the functioning of the mower. This Mower has been made to be more Versatile in its ability to be powered by 18V LXT and compact lithium-ion batteries that have star symbol on them to show star technology.
PROs
– It is environmentally friendly since it does not use any gas.
– It produces less noise when in use.
– It is user-friendly making it faster and quicker.
– It is an overtime money saver,
– No toying with gasoline.
CONs
– Because of its lesser power output, it is not convenient for bigger properties. This limits your mobility.
– Offers short mowing time. You may have an hour or less.
– They may fail to handle thicker grass.
– You must be keen and watch for water all the time you're using it.
– Inadequate personnel's, there is a problem of finding mechanics to service the machines lately.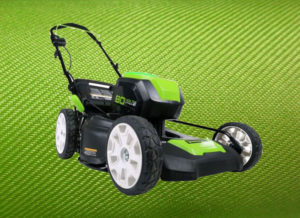 Greenworks GLM is an electric mower with rechargeable batteries.  It has a 4.0AH battery which can power the mower for 60 minutes when fully charged.  Also, its motor is digitally controlled.  Its battery can be charged rapidly and the 80V 4.0AH takes 60 minutes to charge while 80V 2.0AH takes 30 minutes. The mower has a steel 21-inch cutting deck with 3-in-1 technology that can side discharge, rear bag, and mulching capabilities. At Amazon.com this mower sells at $579.99 and it comes with 2AH batteries and a charger. This mower has a weight of 74.1 pounds and a smart cutting sense technology. This weight is relatively light while the sensing technology ensures the safety of the user and the cutting device. Its rear wheels are 10-inch which is a good clearance height to navigate grass fields. Its batteries charge within 30 minutes for 2AH and one hour for 4AH. The motor powering the mower an equivalent power to the 16ccgas engine. Being durable and good for heavy duties, it has a 3-in-1 ability to mulch bag and discharge.
PROs
– You are not dealing with any gas or oil here.
– Bring on the toughest job. It has high power to sustain it.
– You can easily store and maintain it.
– It has the greatest run-time.
– The batteries charge faster than you can imagine.
– It also comes with two batteries, hence, lasting longer.
CONs
– More effort is required on unleveled grounds; deep ditched or steep hilly grounds.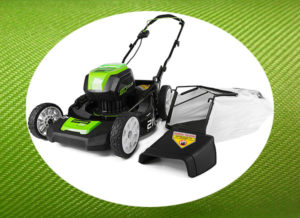 This is a mower that is powered by 4.0AH rechargeable batteries. It has a motor that is Digi-brushes. This mower can run for 60 minutes when the batteries are fully charged.  It produces no gas fumes. When charging the batteries it produces an odor which normally fades away with time. The presence of smart cutting technology makes the battery to last longer and improves the cutting experience. It has a 21-inch deck and a 3-in-1 cutting feature for mulching, bagging and side discharging. On Amazon.com this mower sells at $285.59 and weighs 57 pounds. Which is relatively a fair price compared to others mowers? It has a brushless motor.
PROs
– There is no production of emissions.
– There is no noise produced.
– It has a blade which produces an even cut.
– It is light and easy to maneuver.
CONs
– The Knobs located on the handle tend to spin on and off easily hence can easily fall off.
– Its bag is hard to empty
– A disturbing occurrence of not recommended for heavy duty. Cannot handle thick or dense grass.
– It is time-consuming. It requires more time as compared to other machines.
– Requires a lot of safety when storing or transporting the bare blade.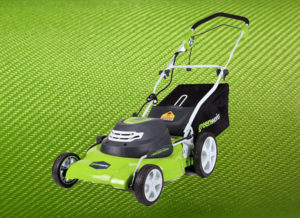 This electric Lawnmower is powered by a 12-Amp-electric motor. On Amazon, it sells for $162 and is offered with a free shipping plan. The item can ship to Sub-Saharan areas, Europe and Asia. Its body Chassis is made up of durable steel that is rust free and has a 20-inch cutting deck. It has a provision of 7 positions for adjusting the height of the grass to be cut to the desired level by the customer. The mower can clip grass in three options which are rear bagging, mulching, and side discharge. Its rear wheel is wide and 10 inches while front wheels are 7 inches making them easy to maneuver even on terrain that is not perfectly flat. This mower tends to be the cheapest of all mowers discussed here.
PROs
– Has a 3-in-1 option for grass clipping options
– Ships to many places around the world
CONs
– It's relatively heavier
Final word
Greenworks 20-Inch 12 Amp Corded Lawn Mower 25022 is the best electric lawn mower given its pricing is the fairest of all the discussed mowers. These discussed mowers are all electric and produce less noise. The pricing is the major factor here, given the fact Greenworks 20-Inch 12 Amp Corded Lawn Mower 25022 is the cheapest and its durable then it becomes the best for anyone who wants to try an electric mower at a fair pricing.