Fishing Kayaks are not very expensive but their availability is not easy. You cannot find them generally at local stores. The top rated fishing kayaks include Vibe Kayaks, Driftsun Voyager, Brooklyn Kayak, Intex Explorer K2 Kayak, Intex challenger Kayak etc. Within those kayaks Vibe is best fishing kayaks. For buying the best one, you need to see that it fulfills all fishing needs. There are certain companies making non-fishing Kayaks. You may get confused if you will ignore the features mentioned with Kayak. The features that need to be focused upon include storage type, quality of material, Beamwidth, seating, Hull type, stability etc. The accessories that a fishing Kayak must possess include Rod holders, Paddle holders, Footpegs, Thigh Hooks, Mountain rails etc.
There are two categories of Fishing Kayaks- Inflatable and hard body Kayaks. Hard body Kayaks are difficult to transport as compared to Inflatable Kayaks. You can easily carry Inflatable Kayaks anywhere and enjoy your water ride because of its easy assembling. The repairing of Inflatable Kayaks is also easy. Although chances of damages are lesser. The Beginners must go for hard body Kayaks as they are not much expensive. The Inflatable Kayaks include Intex Challenger Kayak, Intex Explorer K2 Kayaks etc. Vibe Kayaks are considered as best because it offers best speed and stability. It has 2-rod holders and 4 integrated gear tracks that will help in customizing rigging. Those who are more adventurous must go for this Vibe Kayak as it is capable of handling everything from rivers to surf. It has much more comfortable features that will make your ride fun and adventurous. The best thing is the price is reasonable and easily affordable. There are numerous brands that focus only on fishing needs in Kayaks. You need to explore the features to select the best Kayak for your fishing.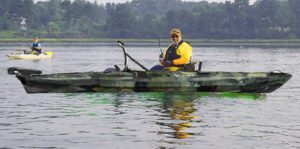 Among all the water sports activities, kayaking has been gaining much popularity these days. Various kinds of kayaks are available in the market as per their usage like, if require for fishing then some additional feature like rod holders are needed, if just paddling on local lakes, then a recreational kayak be used and if camping to be done, then it requires additional storage capacity. Finding the best quality kayak is really a tough job. For the most effective speed, we suggest for this 13-foot 74-pound vibe kayak sea ghost. This offers you two-rod holders and four gear tracks for the perfect support. The best part of this kayak is the rudder control assembly over any other in the market. In the event of windy weather or strong currents, your position remains solid. You have been also offered an efficient transducer to send and receive signals, as they are easily able to detect whether a bottom is soft, rocky or hard because the sound waves will echo off of these surfaces in a slightly different manner. Enough of storage capacity is also provided for a successful and enjoyable fishing trip. In the case of a long journey, the hero seat has been best designed for all comfort and support.
Pros
The rudder system used has many advantages over others, like your feet, don't slide back and forth to steer. The lower position of the pedal is locked in a way that you remain in the solid position at all times.
These angling sit on top fishing kayaks are specially designed in a way to get the best of speed and performance.
The product offers you the best quality accessories and features, unlike other, like the multiple storage areas, large rear tank, rear hatch and extra rod holders for your memorable trip.
Cons
The product is not shipped to all the countries, like not in India, Argentina etc.
Despite the comfortable sit on top feature, you will end up getting yourself completely wet. You need to sit properly to avoid such incidents.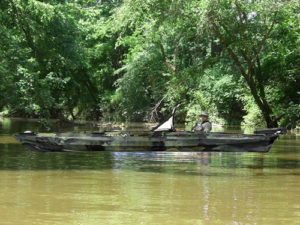 You wish to enjoy the water in a kayak, but not pretty sure of where to invest. There are numerous recreational paddlers, one of which is a sit-on-top kayak. Actually, sit on top are fun and a great way to enjoy the kayaking. The Brooklyn Kayak Company (BKC) offers their best quality sit on top tandem fishing kayak. You can just take your loved one and enjoy the fishing excursion. This is 12-foot five-inch and has the durability to provide the maximum support and storage. For the storage purposes, the compartments have been made waterproof so you are ensured that your valuables are dry and safely kept. For the people with large body types or long legs, this sit on a top kayak will be more comfortable with the seating pattern. When we talk about the load, this is a 450-pound load capacity and its 34-inch beam, so it ensures of being stable and balances in all conditions. It is not just being a simple kayak; however, some added features, make its superior and attractive as compared to others. Like, out of seven fishing rod holders, three are made adjustable as required. There are given four carrying handles to be used. The paddles are high-quality aluminum paddles and the paddle rests let you go hands-free as well.
Pros
You have been offered various storage compartments which are waterproof. So, you have rest in peace by storing your valuables like wallet or keys safe.
The company offers an added benefit of comprehensive five-year warranty, unlike others.
There is no feeling of confinement or enclosed, as in sit-insides. You can easily get in and out and enjoy the environment.
Some of the fishing rod holders are made adjustable as per your convenience.
You can easily slide into the water for a swim and quickly climb back. It has the capacity to be stable and balanced.
Cons
The product is still not eligible for international shipping
While paddling, if the water gets splashy, you will get wet, which is not in the case of sit inside kayaks.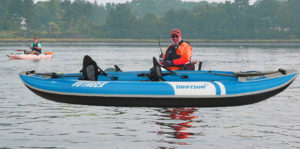 With rapid technological growth, the water sports activities are becoming more and more exciting. When you are planning to use the inflated kayak, much consideration is required to be made depending on the type of kayaking you plan to do. They are available in wide range of designs, from recreational sit-on-top kayaks to sit-in kayaks, want to paddle in water on the lakes, then this kayak will be suitable  to paddle in places with much current and waves, then a performance-oriented inflatable kayak to be chosen. Driftsun offers a very lightweight, compact and durable inflated kayak along with all the required accessories. The biggest benefit offered is that the kayak inflates to its original size in less than five minutes and is a lightweight design, makes it be easily handled by one person. Majority of the people lives in very limited space. So, this kayak solves the issue as it can be quickly deflated and is easily portable. The PVC Tarpaulin bottom enables the protection from punctures and the valves used are strong enough to prevent any leakage. If your trip is for long hours, you can rest assured of the support given by the EVA padded seats, as they are adjustable as per your convenience.
Pros
The biggest advantage of an inflatable kayak is their portability and storage. You can easily carry them on your trip. They get just fit in your closet or trunk of a car and there is then no need for any expensive roof racks. It inflates in just a few minutes with the use of the given double action pump.
It has a benefit of being lightweight. So, becomes very easy to manage.
It ensures an excellent performance in all conditions because of the high-quality accessories used like the heavy-duty bottom, valves, rear drain plug, padded seats, double action pump and much more to add.
Cons
There are chances that the inflated kayak will 'pop' when it hits a very sharp object
You might not use it as a fishing kayak.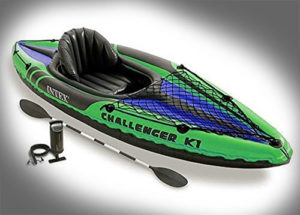 This durable challenger Kayak is prepared using the durable welded material. Its graphics are very beautiful and eye-catching. This Kayak is designed keeping in mind safety in lakes and mild rivers. There is special cockpit in Kayak designed to increase space and comfort for the rider. You can easily enter and exit in the Kayak using this comfortable cockpit. You can enjoy direction stability due to the use of inflatable I-beam floors. There is grab line on both the ends of Kayak to add more safety. The weight of this challenger Kayak is 27.2 pounds and it can carry a maximum capacity of 220 pounds. It is constructed using puncture resistant vinyl. There is backrest for the rider to reduce fatigue while driving Kayak. It is suitable for one person ride and there is cargo net attached in the front of Kayak to store extra gear. The seat can be adjusted according to the comfort of the rider and even can be removed. The skeg is removable that will make the ride easy and comfortable for you. Since the weight is less and size is compact, you can carry this Kayak to different places. If you are traveling with friends, you need separate Kayaks to enjoy your trip.
Pros
The Kayak is made up of durable material i.e. Vinyl. Thus the safety of the rider is ensured.
The Kayak looks very attractive due to its beautiful graphics and design.
Space is enough to enjoy the comfort of the ride.
The seat is adjustable and backrest will reduce your fatigue while riding the Kayak. You can even remove the seat if required.
You need not worry regarding its assembling or disassembling as it takes few minutes to assemble this Kayak. The lesser weight makes it easier to carry.
Cons
This Kayak is one seater. You need to carry separate Kayaks if you are traveling with your family.
There is a risk that it may flip in water because of lightweight
The paddles in this challenger Kayak are not fast and smoother to ride. You can say they are little flimsy.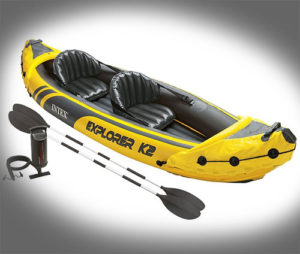 Intex Explorer K2 Kayak is used for sports activity. Its streamlined designed will allow easy paddling to the rider. This product is highly visible and looks attractive in water due to its beautiful graphics and colors. It is a two-seater product that will provide an amazing experience in lakes. You can even use them in mild rivers with your partner. This kayak is lightweight and compact. You can assemble it easily within 10to 15 minutes and carry it anywhere due to its compact size and lightweight. The floor is inflatable I-beam and Kayak is made with rugged vinyl. Other comfortable things include removable skeg that will help in maintaining stability in direction. The seats are adjustable and you can also use backrests for more comfort. For more convenience, grab line and handle is provided at each end of the Kayak. This explorer has 123x36x20 inches of dimensions. The weight is very less i.e. 37.1 pounds that can be easily carried to different places.  You need not worry about the flip as it is strong enough to carry you even at the middle of the lake. You just have to rightly inflate the seats to enjoy the ride.
Pros
It is easily transportable and you can carry it anywhere. The reason is easy assembling and compact size and weight.
The seats are adjustable and backrest is added to Kayak to increase the rider's comfort.
The skeg is removable that helps in moving towards a stable direction.
You will not feel tired while paddling the Kayak as it is designed perfectly according to the user's comfort.
The graphics are beautiful that increases its visibility in the water. This is the reason it looks more attractive.
The Boston Valves are given that will quickly inflate the Kayak without any wastage of time.
Cons
It is suitable only for smaller water bodies like lakes and mild rivers
You need to keep the track of air in seats as extra air can make them hard
Only two passengers can ride at a time on one Explorer Kayak. You need to have separate Kayaks if you are with Kids.